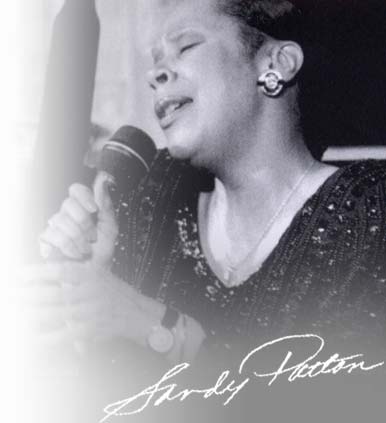 Born on March 8, in Inkster, Michigan, Sandy Patton began singing as a little girl. Her passion for music led her to a 3-year stint with Lionel Hampton's Band. www.sandypatton.com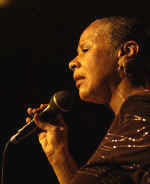 SANDY PATTON HAS BEEN THE JAZZ VOCAL PROFESSOR AT THE SWISS JAZZ SCHOOL, (Hochschule der Künst) IN BERN, SWITZERLAND SINCE 1993.
BEFORE JOINING THE SCHOOL SHE PERFORMED WITH SOME OF THE GREAT "WHO'S WHO" OF JAZZ, THOSE WHO HAVE HELPED TO SET THE TONE FOR JAZZ AROUND THE WORLD.
SHE HAS TOURED WITH THE GREAT LIONEL HAMPTON, PERFORMED WITH DIZZY, PAQUITO D'RIVERA, JIMMY WOODE, AL GREY, JUNIOR MANCE, BENNY BAILEY, JUST TO NAME A FEW.
SHE HAS PERFORMED THROUGHOUT EUROPE, AMERICA, RUSSIA, SIBERIA, MIDDLE EAST AND FAR EAST.
SANDY HAS GIVEN WORKSHOPS IN FRANCE, GERMANY, ITALY, AND AMERICA:
LANGNAU NIGHTS MASTERCLASS- LANGNAU, SWITZERLAND
STAGE DE JAZZ VOCAL-ROGNES, FRANCE
STAGE DE JAZZ VOCAL- LA CIOTA
DUE LAGHI JAZZ WORKSHOP-AVIGLIANA, ITALY
ALABAMA JAZZ AND BLUES WORKSHOP-MONTGOMERY, ALA.
SHE PRODUCED AND DIRECTED SIX JAZZ IN THEATER SHOWS WITH HER STUDENTS, THROUGH A PERFORMANCE WORKSHOP SHE DESIGNED CALLED "NEW DIMENSIONS".
BROADWAY MY WAY

MOTOWN GOES JAZZY

THE MUSIC OF RODGERS & HART

THE MUSIC OF THE WIZ

A JAZZ ANTHOLOGY

TRILOGY PLUS
PATTON PERFORMS HER CONCEPT SHOW "SANDY LOVES SAMMY", A TRIBUTE TO THE GREAT SAMMY DAVIS, JR., AND IS PROMOTING HER NEW BASS AND VOCAL DUO CD "PAINTING JAZZ"WITH THOMAS DÜRST.
"CATCH HER, IT'S MAGIC"
www.sandypatton.com - More. . .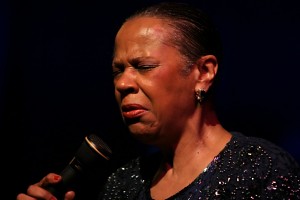 Sandy teaches vocal technique at the Swiss Jazz School, in Bern, Switzerland.
Sandy recorded Joan Cartwright's song, LONELIBLUE on her debut CD with Jan van Naeltwijck - Quest For E. T.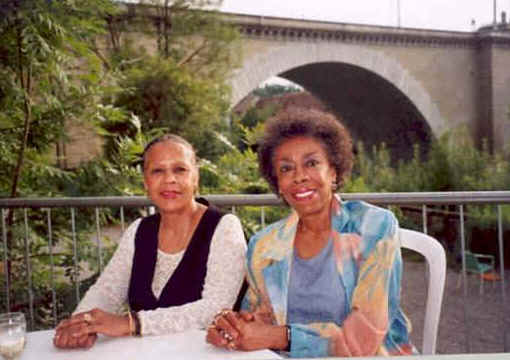 Here, she visits with her sister Gwen, who is a genius in her own right. They are magnificent women who've eked out their own places in life, with emphasis on making profound impacts on those who know them.
Her sister wrote this about her:
Had a grand time with Sandy in Bern. As you know, she is the only lady/woman professor at the Swiss School of Jazz. She still has a fantastic schedule, going all over Europe, the Middle and Far East . She is "the toast" to jazz! This pix was taken on the night, June 28, 2004, of her students extraordinary jazz revue, "The Wiz." Sandy's narrative, which she wrote, was pure poetry. She is a creative talent extraordinaire!
Will be going to Vegas that latter part of this month, and then to Boston and on a Caribbean Cruise in August and to Houston, Texas in September.
I urge you, in fact, I insist, that you visit with Sandy in Bern. She is the best hostess ever, especially with her gourmet cooking. We dined on the finest cuisines, including "tempura flowers," an exquisite delight! On July 4th, so I won't feel homesick, she grilled (in the oven mind you!) BBQ, collard greens and cabbage, yams with ginger and potatoes with butter. Take care.
Love, Gwen