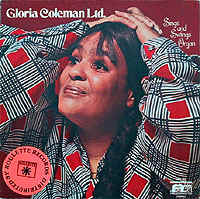 Gloria Coleman, organist, pianist, bassist and vocalist is a native of New York. She studied the violin, piano and bass, and began her career in 1952 as a bassist with some great pianists, including Sarah McLawler, Myrtle Young in Philadelphia, and Sony Thompson in Chicago. She has been associated through the years with Lou Donaldson, Willis Jackson, Etta Jones, Jack McDuff, Jimmy Scott, Sony Stitt, Matthew Gee, and Cecil Payne. She played bass less frequently as she began to devote more time to and interest in the piano and organ.

Ms. Coleman developed her own style on the Hammond Organ, following in the footsteps of both "Wild" Bill Davis, who used his left hand and feet to emulate the string bass sound, and Jimmy Smith, who added right hand solos that emulated horn lines, making it possible for the organist and drummer to create the full sound of the jazz band. She got tips from Smith while working at her organ technique at the famous Harlem nightclub Small's.
In the early 1960s, after performing for a time as a pianist and organist with Tiny Grimes in Sherry's, an Atlantic City club, she returned to Sonny Stitt's band as his organist, performing at such New Your venues as the Village Gate. An early organ combo featured Booker Ervin on tenor saxophone and Carmen Lacaria on drums. Her husband, saxophonist George Coleman, played an important part in her musical career.
To develop her piano technique, she and her husband practiced together in their home with Booker Little. She writes and arranges her own music, as well as music for others. Examples of Ms. Coleman's songs written for or recorded by various artists include "You Make Me Want to Dance" (Joe Lee Wilson, Irene Reid), "I Got A Claim on Fame" (written as a theme song for Irene Reid); and "There's a Way" (Hank Crawford).
Ms. Coleman has also written for Bobby Humphrey and 15 songs for Ernestine Anderson. Many of her works are dedicated to friends and colleagues like Ike Quebec, Melba Liston, Grant Green and Shirley Scott. "Nicole's Waltz" was written to honor Shirley and Stanley Turrentine's youngest daughter. Ms. Coleman's book Poems and Poetry includes entries about Eddie Jefferson, Horace Silver, Elvin Jones and Gene Ammons, and others. She recorded Soul Sisters (Impulse, 1963) with guitarist Grant Green, alto saxman Leo Wright, and drummer Polar Roberts.
Other records featuring her playing and compositions include Soul Talk with Leo Wright (Atlantic Records); Gloria Coleman Sings and Swings (Mainstream), and albums with Hank Crawford, Nat Simpson, and Etta Jones. Ms. Coleman's latest recording is Dancing on the Moon (Paradise Sounds). Recent performances have been at such venues as the Monterrey Jazz Organ Festival in tribute to Shirley Scott, the Hot House in Oslo, Norway, in Stockholm, Sweden, Sutton's in New York, and the Billie Holiday Jazz Festival in Brooklyn, where she was featured with her son, George Coleman, Jr. and his quartet.
Recordings and Links
Gloria Coleman - Verve Records
Organist Gloria Coleman made a pair of soul jazz albums for the Impulse label in the mid-'60s, neither of which is in print at the moment or has been ...
www.vervemusicgroup.com/artist. aspx?ob=per&src=prd&aid=6110 - 24k - Cached - Similar pages
Low prices on Gloria Coleman Soul Sisters CD music album and songs at CDUniverse, the Internets best online store, with reviews, track list, ...
www.cduniverse.com/search/ xx/music/pid/6670793/a/Soul+Sisters.htm - 13k - Cached - Similar pages
Low prices on Gloria Coleman music at CD Universe, the Internet's best music CD store, with top rated service, Gloria Coleman songs, discography, biography, ...
www.cduniverse.com/search/xx/music/ artist/Coleman,+Gloria/a/Gloria+Coleman.htm - 11k - Cached - Similar pages
Search Results. We found 1 item for contributors: Gloria Coleman. ... View all titles on which Gloria Coleman contributed. ...
music.barnesandnoble.com/ search/results.asp?z=y&ctr=72192 - 29k - Cached - Similar pages