Knight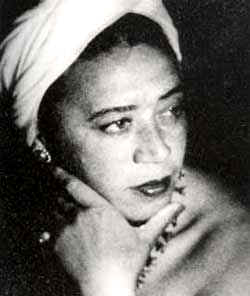 Mabel Mercer was born in 1900 in Staffordshire, England. After leaving a Manchester convent school at the age of fourteen, Miss Mercer joined her aunt in a vaudeville and music hall tour of Britain and the Continent. Her career quickly flowered, and by the 1930s she was the toast of Paris, introducing her inimitable style of singing to adoring audiences and beguiling such steadfast admirers as Ernest Hemingway, Gertrude Stein, F. Scott Fitzgerald, Cole Porter, and the Prince of Wales.
The outbreak of World War II brought her to America where she began a series of engagements at New York's finest supper clubs. Among the rooms she made her own were Le Ruban Bleu (a six-month stay), Tony's (seven years), the RSVP (two years), and five years in her own Byline Club.
Miss Mercer solidified her career with engagements at the Carlyle and St. Regis Hotels, and she enjoyed brilliant concert triumphs and record-breaking appearances across the United States. more. . .