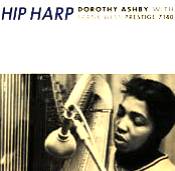 Dorothy Ashby (Detroit, MI - August 6, 1932 - April 13, 1986) was born Dorothy Jeanne Ashby. One of the first harpists to contribute to the classic hard bop and jazz-funk recordings, she grew up in the Detroit scene, where her father, guitarist Wiley Thompson, rehearsed with jazz musicians at his home, where Dorothy played the piano in the background.
She played saxophone and bass in the Cass Technical High School Band, where jazz greats Donald Byrd, Gerald Wilson, and Kenny Burrell attended. She wanted her own harp because, at school, fourteen other students shared five harps. She commented, "This isn't just a novelty, though that is what you expect. The harp has a clean jazz voice with a resonance and syncopation that turn familiar jazz phrasing inside out." She attended Wayne State University, for piano and music education. When she graduated, Dorothy went to work in lively Detroit jazz scene.
Although she could work as a pianist, she wanted to play harp more and, in 1952, she bought her harp. To contest the resistance to the concept of the harp as a jazz instrument, she organized free shows and played for dancers with her trio that included her husband John Ashby on drums. They toured and recorded on a number of jazz labels in the 1960s. Dorothy played with Louis Armstrong, Woody Herman, and others, and in 1962, was nominated in down beat's annual poll of best jazz performers.
She worked with John Ashby, who founded the Ashby Players, a theater company in Detroit. In the late 1960s, tired of touring, they relocated to California, where Dorothy broke into the closed studio system, which had enough harpists. Bill Withers recommended her to Stevie Wonder. She did a steady stream of recording session with Dionne Warwick, Diana Ross, Earth, Wind & Fire and Barry Manilow.
Recordings
Dorothy Ashby--Jazz Harpist, Regent MG-6039

Hip Harp, Prestige PRLP-7140

Soft Winds, Jazzland JLP-961

Dorothy Ashby, Argo LPS-690

The Fantastic Jazz Harp of Dorothy Ashby, Atlantic

Afro Harping, Cadet LPS-809

Dorothy's Harp, Cadet LPS-825

Rubaiyat, Cadet LPS-841

Music for Beautiful People, Prestige PRST-7639
Links